MLH is 'Provider of the Year – VIC'
We are thrilled to announce that we are the ACSA 2021 'Provider of the Year – VIC'! ACSA (Aged & Community Services Australia) is a peak industry body supporting not-for-profit aged care providers.
ACSA states that this award 'recognises a residential, community care or retirement village provider that demonstrates outstanding leadership, management, workforce culture, innovation, communication and excellence to the sector'.
It further says, 'Through celebrating these successes, the awards continue to put a spotlight on the hard work and achievements of those who work in the aged care industry' (ACSA website).
This is the second time that we have achieved this milestone. The first time we got awarded this title was back in 2018.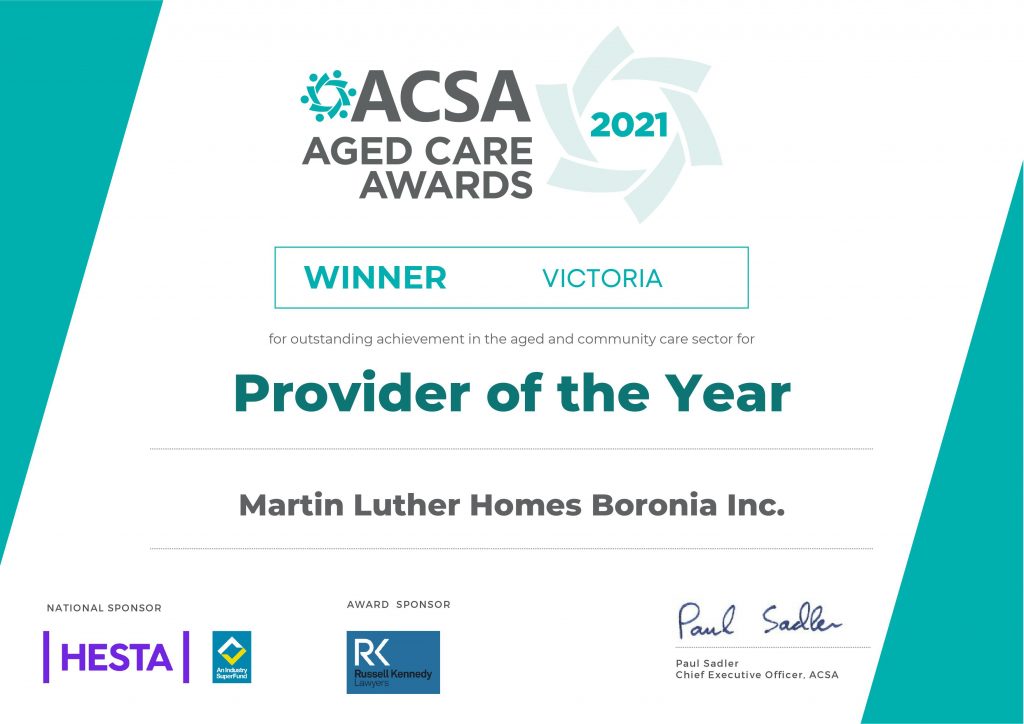 This year, the award ceremony took place online. On accepting the award, Martin Luther Homes CEO Birgit Goetz said, 'It is such a privilege to receive this award. All the providers [nominated] are doing such wonderful things to keep the quality of life up for the residents despite the pandemic. I'm so proud of my staff […] [and] what they have achieved.'
This is an incredible honour for us and we thank our amazing staff and our whole Martin Luther Homes community for their support in the last year(s)!
This also means, we will represent Victoria at the national ACSA Aged Care Awards in December 2021. Rest assured, we will keep you up to date!