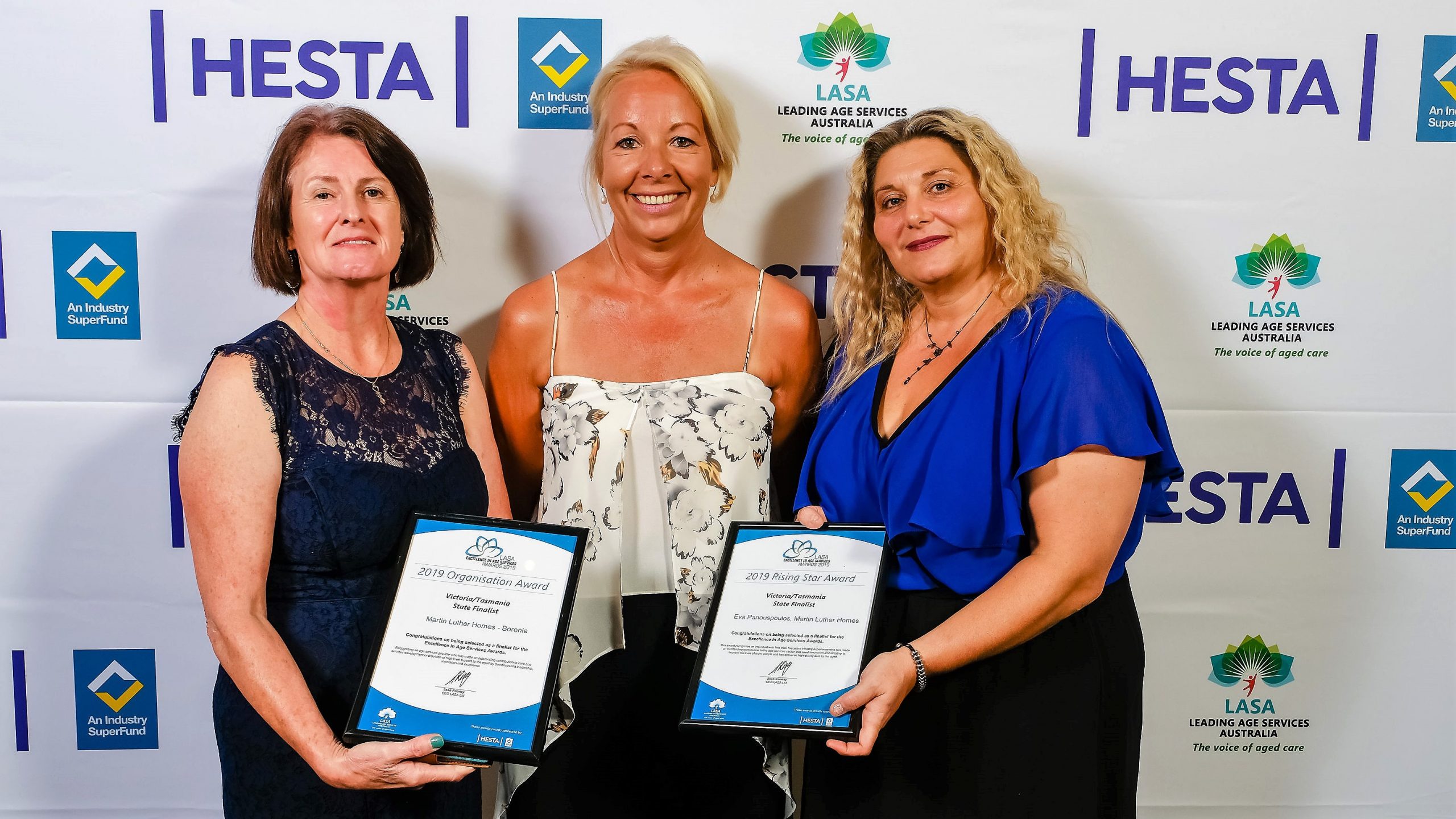 Martin Luther Homes recognised by aged care peak body
Martin Luther Homes are proud to announce that we have been recognised for our work in the aged care sector at the LASA Excellence in Age Services Awards.
We were nominated and named finalists for the Rising Star as well as Organisation Award Vic/Tas. The 2019Tri-State Conference was organised and hosted by Leading Age Services Australia (LASA), which is the national peak body representing all providers of age services across residential care, home care, and retirement living.
Martin Luther Homes CEO, Birgit Goetz, was accompanied by our Director of Clinical Services, June Hodge, and by our nurse Eva Panousopoulos who was nominated as a 'Rising Star' of the aged care sector.
"To be recognised a second year in a row for our innovative Care Apartment© concept was yet another confirmation that we are on the right track. We constantly try to re-invent ourselves and our services. It is great to see that our industry peers agree, and that the strong focus on our residents is a winning strategy."
Director of Clinical Services, June Hodge, agrees and she also stressed how moving it was to see one of her most outstanding nurses stand up on the podium. Eva Panousopoulos joined Martin Luther Homes just over a year ago and she has quickly become a successful leader who inspires others to always give their best, every day.
"We knew from the start that Eva would be our Rising Star, regardless of the outcome tonight. People like her are the backbone of our aged care centre and of the industry as a whole."
LASA CEO Sean Rooney congratulated all nominees, finalists, and winners for their outstanding efforts and the contributions they make daily, not only to the industry but to the lives of the older Australians.
"Our industry has countless passionate professionals, volunteers and organisations who don't generally look for thanks or praise. It is their dedication and professionalism that make up the backbone of our industry," Mr Rooney said.
Martin Luther Homes CEO, Birgit Goetz, also congratulated the winners of the night and she confirmed that award ceremonies are not only a great event to celebrate the work we are all passionate about, but to also exchange views and experiences with other aged care sector leaders.